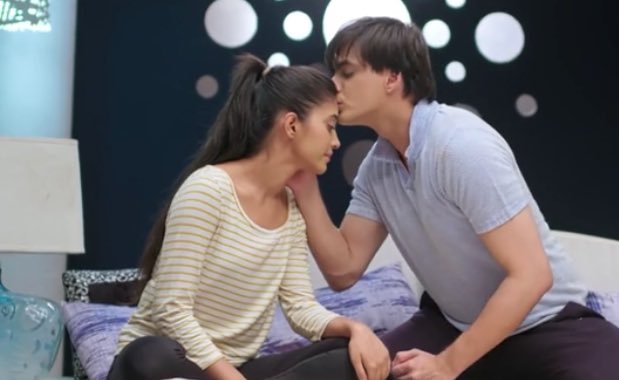 Hi friends I am so happy that you all liked The surprise. It gives me immense happiness To know that you are enjoying this ff. Thank you so much for all the comments and your immense love and support.
Episode starts from where we left Kaira yesterday. It's still raining. Kartik is still holding Naira in his arms. They are lost into each other.

The assistant directors are coming in search of them. Urvashi too follows them.
ADs are surprised to see Kaira romance while Urvashi is irritated on seeing it.
AD 1: Wow what a romance..even in movies we can't see something like this
AD 2: It's true love man…can't be found between two random co actors..natural is always best
AD 1: I don't think we should disturb them
AD 2: Anyway we can't shoot till rain stops. So let the love birds be alone
They walk away. Urvashi overhears this and gets upset and angry. She stands there watching Kaira.
Few minutes later the rain stops and that's when Kartik and Naira come to senses. Naira sees Urvashi watching them and nudges Kartik
Kartik: Why should I leave you Huh..you are my wife remember that
Naira: Shut up Kartik..anyway we can't stand like this all day
Kartik let's her down and as they start walking towards Urvashi Kartik intertwines his fingers with Naira's and tightens his grip.

Urvashi: Kartik Whats all this
Kartik: I guess you are having enough senses and eye sight to know it
Urvashi: Why are you doing this to me..why are you doing this with her
Kartik: First I'll answer your second question..I'm doing this with her as she is
Kartik looks at Naira
Naira: Naira Kartik Goenka
Kartik: That means she is my wife and it's legal for me to do this with her..to answer your first question..you are a closed chapter so I don't think this question is valid.
Urvashi: I love you
Kartik: It's not good to hear them from you..if you got any ideas when I didn't resist you hugging me is as a co actor I felt your pain that's it..don't bring anything else there..Naira kuch bolo na
Naira: I'm hungry Kartik
Kartik: Oh ho…meri biwi is hungry..see Urvashi as a good husband I must take care of my wife and I can't let her stay hungry so we are leaving
Kartik takes Naira with him. Urvashi realises that it's too late to realise Kartik's value ( HEY GUYS DO YOU WANT HER IN A NEGATIVE SHADE..DO TELL ME IN COMMENTS BELOW)
Scene shifts to Kaira's apartment. Kartik is drying Naira's hair with a towel
Naira : Achoooo (Sneezes)
Kartik hits himself on his head: I'm a fool I shouldn't have held you for so long
Naira: What
Kartik: Arrey I meant in the rain..now see you have got
cold
Naira: It's…ooooo(sneeze)…kkk Karttiikkkk(sneeze)
Kartik: Nothing is ok ..I'll bring a khada..mom's recipe ..you wait here
He goes out and Naira goes to the bed and sits there with her legs bent and knees close to her chest
Kartik comes after five minutes and sees Naira rubbing her hands in chillness
He sits near her with khada in hands
Kartik: Naira..is it cold..do you need something hot
Naira nods
Karitk: Then have this hot khada
Naira makes a puppy face
Naira: Chi
Kartik: What chi..drink it please
Naira resists but Kartik feeds her.
Naira: I still feel cold
Kartik: Let me bring a blanket
Naira (under her breath) : Idiot
Kartik: Did you say something
Naira: Haan.idiot ho tum
Kartik: What
Naira: Arrey I need your hug for this chillness
Kartik: Acha Ji….
Kartik pulls her into an embrace..there is no space even for air
Naira: Do you know something
Kartik: You feel comfortable and safe when you are in my embrace am I right
Naira: How
Kartik: I just know it ,.,now you sleep..
Naira settles peacefully with her head resting on his chest and Kartik too switches the lights off and slowly dozes of.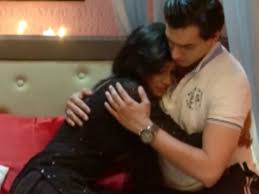 PRECAP: ADI MEETS ALIYA AND IT IS LOVE AT FIRST SIGHT.
NAIRA SCREAMS : KARTIKKKKKKKK
HEY GUYS DO TELL YOUR GUESSES REGARDING THE REASON FOR NAIRA's SCREAM IN THE COMMENTS BELOW. IT WILL BE REVEALED IN NEXT EPISODE. I HOPE YOU WILL FIND IT……..
The post Woh Chaand Toh Mein Hoon- COLD (EP 11) appeared first on Telly Updates.